The clique saying that everyone hears is that kids today have moved from the page to the screen and will spend more time online than any past generation. Educators are bombarded with ways to integrate technology in the classroom and handed outcomes they must fore-fill utilising technology. The Australian Bureau of Statistics reports that over 60% of Australian children between 5-8years have access to the internet. Screen interaction has penetrated school life, home life and everyone's social life. Time to embrace or escape?
The Journal of the History Teachers Association of NSW detailed an inspiring article by Natasha Armen "Integration of Social Media into the History Classroom" (Volume 49, No.2). I was taken by her honesty about the battle teachers and parents are having with social media and how the digital revolution is a revolutionary movement well beyond the control of any individual. The students I encounter demonstrate tremendous energy and enthusiasm for social media. They know shortcuts, tricks for hashtagging, pinning posts, linking, liking….the list goes on. The complexity of social media is sometimes well beyond me but as a learning tool its power has yet to be measured.
While researching the new excursion plans and content for the Bathurst Goldfields I had an awkward epiphany in the Bathurst Cemetery. If I can breathe life into the lives of the past, students can resurrect them well beyond the grave into the social media platforms. Imagine conversations on twitter between Napoleon and Wellington, Hitler and Churchill or the First Fleet and Indigenous Australians. What did they see, how did they feel and what did they experience. Glimpsing into history is about finding links, drawing on sources and articulating connections or historically significant experiences. Add in social media and The Bathurst Goldfields?
How about Facebook? – looking back on my high school education my religion teacher transferred her passion of early feminists to me. I remember writing a 9 page essay about Hildegard of Bingen. I still quote her respectfully.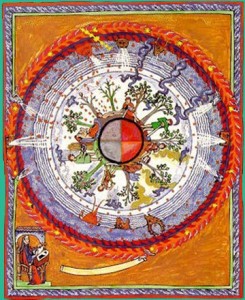 Her words travel over centuries as she whispered them to a terrified HSC student; "you are the mountain and the valley" and even more prophetic "Glance at the sun. See the moon and the stars. Gaze at the beauty of earth's greetings….All nature is at the disposal of humankind. We are to work with it. For without we cannot survive." What would I choose to post on Facebook if I was Hildegard? How would students translate her life lessons, letter and advice? What events and experiences did she have that should be posted on forums for the class to read, digest and remember? What do her images teach us? (To the right – her illuminated manuscript titled Tree of Life)
The trick to integrating social media is to ensure the key skills remain. These are the foundations, the concrete in which we use to build year after year. The skills are clearly illustrated by The Australian Curriculum Council. We need all these skills to turn the wheel of learning.
When planning a task that uses social media, start with identifying the skills you want students to develop. Identify the information you want them to retain, experiment with, manipulate and experience. Create a clear assessment rubric that demonstrates to students how the task needs to communicate their skills and knowledge without hampering their creativity.
NO TIME?  I have developed clear and meaning social media tasks for students from years 5-10 that are structured around the National Curriculum. Each task is linked to a section of the excursion at the Bathurst Goldfields. The worksheets can be distributed to teaching staff upon booking to allow you to prep your students, talk through the task and ensure they are prepared to collect source material for their final assessment. Our new multi-media centre will be open in 2016 to give students ample time to complete the task onsite. Outcomes achieved!
All of these ideas and teaching techniques are great ways to engage students and get them excited about their subject areas.  Not only will outcomes be achieved but students will indirectly learn how to responsibly use technology and broaden their horizons. Social media in the classroom needs to be demystified and embrace. Teachers are the leaders of innovation and integration of new content into our classrooms- make the leap, hit twitter and Facebook at the Goldfields!
I leave you with the words of Hildegard of Bingen – "Trust shows the way".