Last week we had our first school complete our new tours. South Bathurst Public School was lucky enough to be the first school to come to the Bathurst Goldfields and complete our new tours. The tours have been written with the aim of utilising the amazing historically rich sites we have available in the Bathurst, NSW. I have decided this week to create a blog that walks you through the first stage of one of our tours.
Macquarie Riverpark Tour: 
Stop one was the banks of the Macquarie River. Bathurst is Australia's oldest inland settlement and proclaimed a settlement by Governor Macquarie on the 7th May, 200 years ago! All the students were greeted by our staff dressed in period clothing including Governor Macquarie himself, a well know Goldfields convict, Pat. The kids loved the chance to dress up, play the drums and reenact the proclamation of Bathurst.
Next stop; the Old Bathurst Flagstaff. The students spent some time at this site learning about the families who made significant contributions to Bathurst including the Edgell Family, Brooke Moore and groups of notorious convicts aboard a variety of fleets. It was fascinating to hear so many children talking about Bathurst and never knowing who all these people were!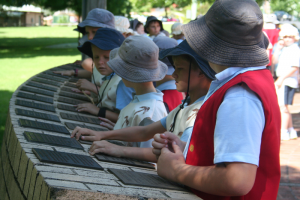 Our final stop for this tour was the banks of the Macquarie River. The kids listened to the stories about the warrior Windradyne and the Bathurst War's fought between early European settlers and the Bathurst Wiradyuri. Again we had many students making the connection between the name of their suburb and Windradyne!
We are very excited that these tour are now available. Not only do students learn about the early colonial history of Australia but they also get to experience history by participating in reenactments and listening to our guides explain the narratives behind historic battles and struggles. We have adopted a hands on approach to learning where students have the chance to see the physical sites that witnessed historically important events. We aim to transform kids back in time under the guidance of our staff at the Bathurst Goldfields. We hope to see you at the Bathurst Goldfields in 2016!